28/7 – 30/7 at Kose office, Block 1 Dataran Prima, P.J.
It was a weekend that the huby was not around in town. He was back to his hometown to attend his old school alumni dinner in conjunction with its' 100th year anniversary! Wow, Keat Hwa has been around for that long?? Anyway, I bet he must be having hell of a good reunion time with his ex-school mates.
Despite not having his pair of extra hands, I could not resist not heading to KOSE warehouse sale. As usual i have my parents around … isn't that n awesome plus point?? After having breakfast, I chucked the maid & baobei to my parents. And i quickly made my way together with the 2 elder monsters.
Actually I've not tried KOSE products but i've certainly no doubt in trusting this well known Japanese brand. And i reckon this would be a good time to get to know more of the brand & it's offerings!!
I was there sharp at 10am when it opens so the place was not too crowded yet. The staffs were very helpful in giving explanation to the many range of their product lines as well as recommending suitable products according to the brief analysis that they did on my skin. Most of the products (skincare or cosmetics) are sold at a minimum of 20% discount from the retail prices with some star picked item being promoted at more than 50% discount
Here are my skincare hauls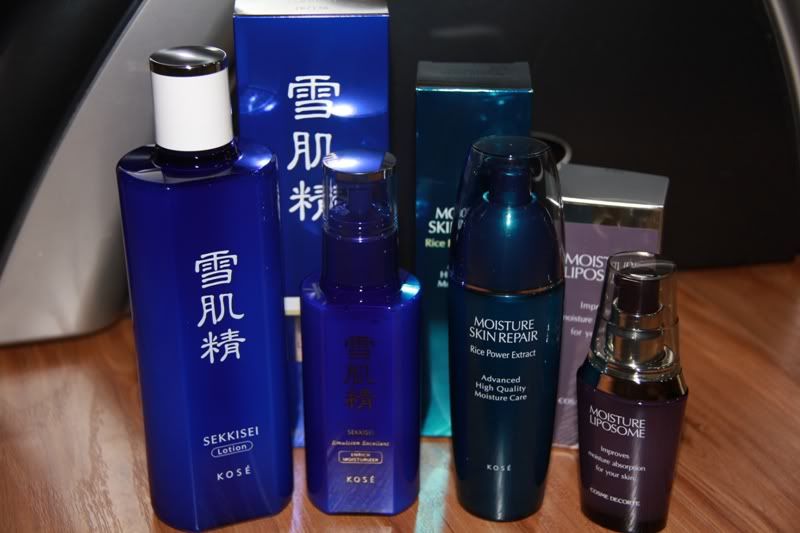 I was told that COSME DECORTE is the top/high-end range of their product lines. I picked the Moisture Liposome as hydration & moisture are my key concerns in my skincare routines right now apart from anti-aging lol
Sorry that I'm not doing a review here, you may need to check elsewhere how do all these products work. I just trust the SA …. she must be very convincing huh??
Moisture Liposome at RM255 for 40ml
Another moisture care product by Kose
Moisture Skin Repair at RM195 for 100ml
I've always been curious with this famous Sekkisei range of products & here are my picks this time.
Left : Sekkisei lotion (or toner) at RM170 for 360ml (that was a very big bottle). Im going to use this lotion with the plain Kose paper sheet mask I bought from HK.
Right : Sekkisei Emulsion Excellent (enrich moisturizer) at RM80 for 140ml. And this is the special star picked product that was promoted at >50% discount. I was very tempting to get 2 bottles ….
There were lots of skincare travel sets on sale too. My picks are :
1) for normal skin at RM30, indeed good for traveling as it's complete with loose powder (i would keep these in office, usually use after a gym session)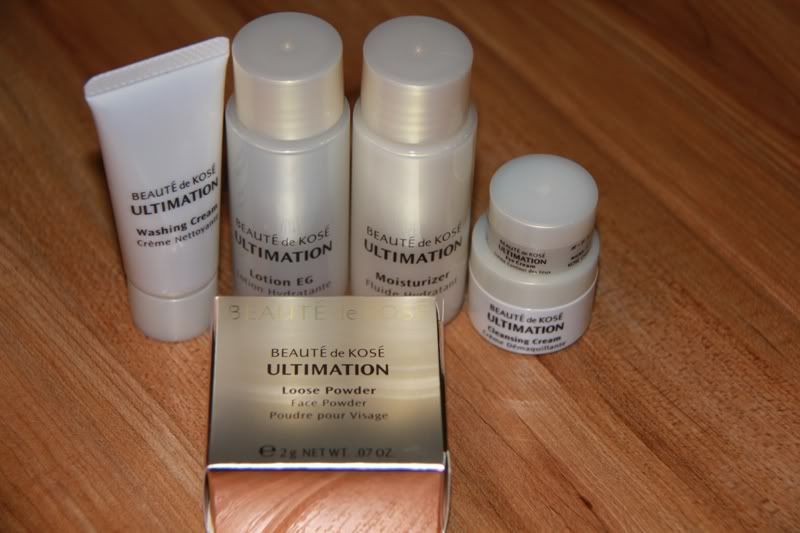 2) for anti-aging skin
at RM40 per set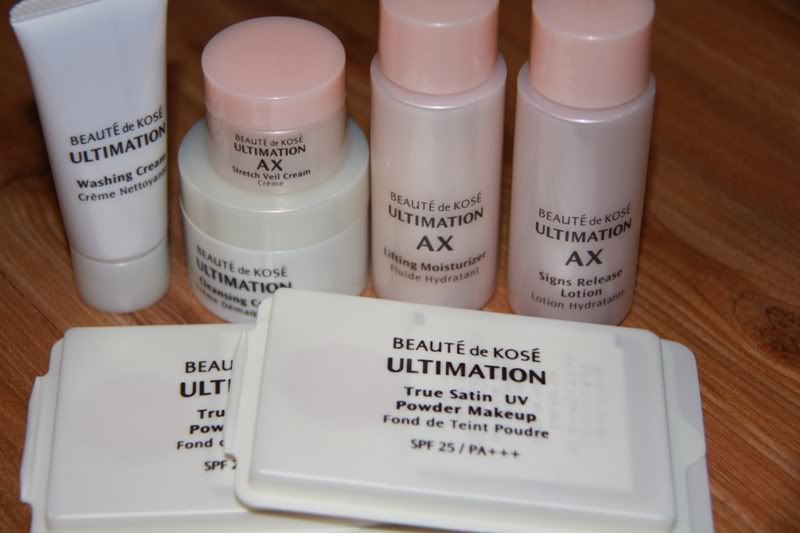 This definitely caught my attention as large pore has always been a problem to me!
Pore serum at RM20 per pack (i.e. RM4 each tube of 3oz)
And i've never failed to being a kiasu buyer…. it's time like this that one should grab the opportunity to ask for more sample …. and more and more please, gagaga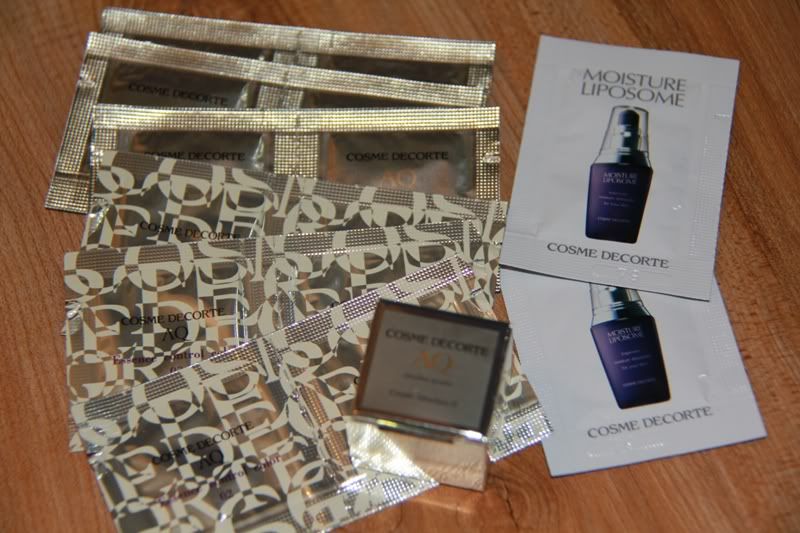 Apart from skincare, cosmetics are definitely what I was eyeing too. I am one CRAZY collector of eye shadow palettes. And when I had a chance to explore any high-end good quality eye shadow, most likely than not I would easily succumbed into getting it
The SA displayed about 6-7 beautiful palettes of eyeshadows with jaw dropping awesome colors & I was struggling with my choice.
Anyway, here are my final choices.
031 & 024 at RM164 each palette (was told that each retails at RM219 at counter, wow that's certainly pricey)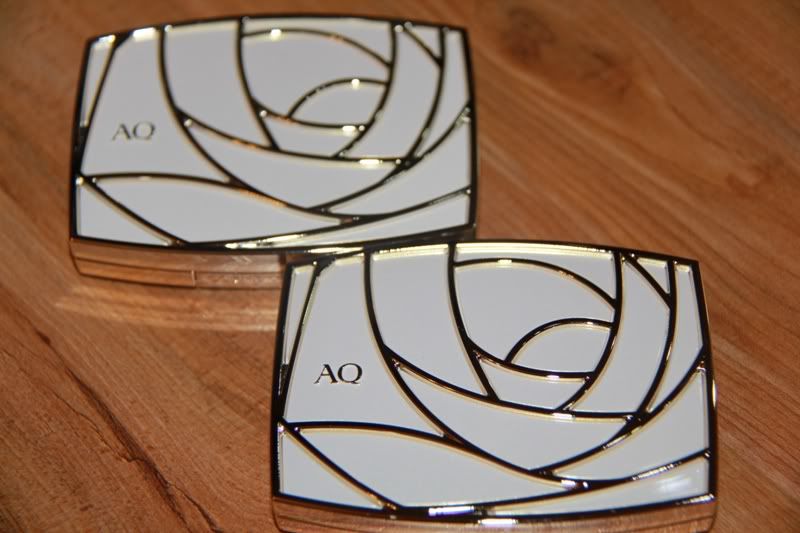 024 (pinkish & purplish colors)
pretty & sweet colors but i'm selling it to my sister (with a heavy heart)
031 love the soft baby blue color, the grey are pigmented & very wearable too.
Here is another grab too!! Esprique precious Illuminate Fantasy collection at RM50 per set (retail at RM99 at Isetan). I believe this must be a budget range of the line but hey, I wouldn't mind when the quality speaks the opposite!!
This is supposing a Face color ….i suppose that means blush. But it was a tad too glittery for me. So i think it works better as a highlight above the cheek bone or brow bone!!
The casing is simply too elegant for the price, not forgetting its' sturdiness too …. no surprise with Japan products!!
the rest of the items are (L to R): nail color, mascare & lip gloss!
I'm happy with my hauls & am so looking forward to the moisturizing journey ahead {i hope my face won't drown, lol
}
Ahhh…..and that was my very heavily pictured & long 1st post
Stay Beautiful … with love, jacs